Skins Unisex 3-Series Seamless Recovery Calf Sleeve (black)
Material:
76% Polyamid,  24% Elasthan

Größe/Size:
XS - XL

Skins Unisex 3-Series Seamless Recovery Calf Sleeve (black)
Die unisex SKINS 3-SERIES seamless recovery Calf Sleeves reduzieren Sie die Schädigung des Muskels durch die negativen Auswirkungen von Muskelschwingungen. Eine gradiente Kompression fördert die Durchblutung und die Sauerstoffzufuhr zu den aktiven Muskeln und vermindert Laktateinlagerungen. Sie wurden sowohl für Männer als auch für Frauen konstruiert und vereinen unsere beste Kompressionstechnik mit langlebigen High-Tech-Geweben, um den Unterschenkel zu stützen und zu stabilisieren und so das Verletzungsrisiko zu verringern und optimalen Komfort zu bieten.
Vorteile & Eigenschaften
Schone und regeneriere deine Füße nach ermüdenden Ausdauereinheiten mit den unisex SKINS 3-SERIES seamless recovery Calf Sleeves . Wir haben unsere beste Kompressionstechnologie mit antimykotischer Kupfertechnologie kombiniert, um die Sauerstoffzufuhr zu deinen müden Waden zu verbessern, den Stoffwechselabfall aus den Muskeln deiner Unterschenkel abzutransportieren und die Wundheilung zu beschleunigen, sodass du schneller wieder auf den Beinen bist. Trage sie nach dem Training für eine schnellere Regeneration oder während Langstreckenflügen zur Minimierung von Schwellungen und Beschwerden während der Reise.
weitere Eigenschaften für die Skins Kompressionsbekleidung:
- 76% Polyamid, 24% Elasthan
- Hergestellt in Europa
Einsatzgebiete für die Skins 3-Series seamless recovery Calf Sleeves:
- Fitness, Krafttraining
- Trailrunning, Hindernislauf, Klettern
- sämtliche Ballsportarten wie Fußball, Handball, Basketball, Volleyball, Hockey, Tennis, Golf,
Badminton, Squash
- Leichtathletik, Triathlon
- Ruhephasen zwischen Training und Wettkampf, auf Reisen
Skins Unisex 3-Series Seamless Recovery Calf Sleeve
The unisex SKINS 3-SERIES seamless recovery calf sleeves reduce muscle damage from the negative effects of muscle vibration. Gradient compression increases blood flow and oxygenation to active muscles and reduces lactate build-up. Constructed for both men and women, they combine our best compression technology with durable high-tech fabrics to support and stabilize the lower leg, reducing the risk of injury and providing optimal comfort.
Benefits & Features:
Protect and regenerate your feet after tiring endurance sessions with the unisex SKINS 3-SERIES seamless recovery Calf Sleeves. We've combined our best compression technology with antifungal copper technology to improve oxygen delivery to your tired calves, scavenge metabolic waste from your lower leg muscles and accelerate wound healing so you're back on your feet faster. Wear them post-workout for faster recovery or during long-haul flights to minimize swelling and discomfort during travel.
Further properties for the Skins compression clothing:
- 76% Polyamide, 24% Elastane
- Made in Europe
Areas of application for the Skins 3-Series seamless recovery calf sleeves:
- Fitness, strength training
- Trail running, obstacle course, rock climbing
- all ball sports such as football, handball, basketball, volleyball, hockey, tennis, golf, badminton,
squash
- Athletics, triathlon
- Rest periods between training and competitions, when travelling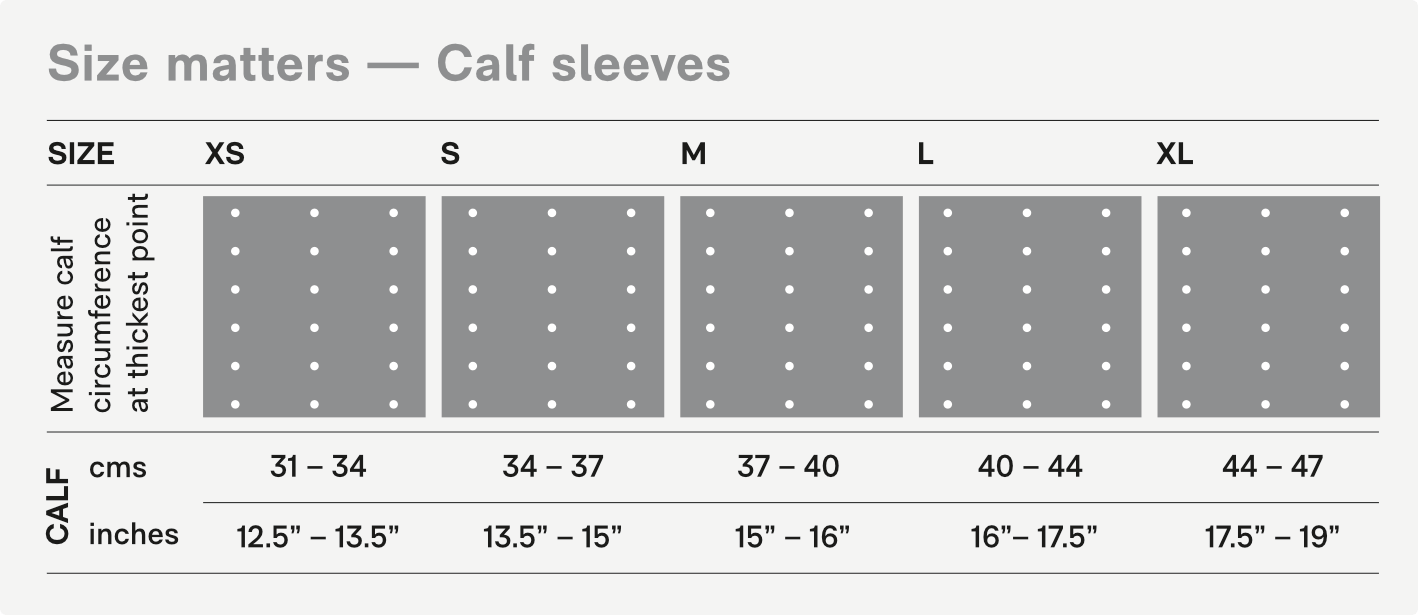 Skins Unisex 3-Series Seamless Recovery Calf Sleeve
The unisex SKINS 3-SERIES seamless recovery calf sleeves reduce muscle damage from the negative effects of muscle vibration. Gradient compression increases blood flow and oxygenation to active muscles and reduces lactate build-up. Constructed for both men and women, they combine our best compression technology with durable high-tech fabrics to support and stabilize the lower leg, reducing the risk of injury and providing optimal comfort.

Benefits & Features:
Protect and regenerate your feet after tiring endurance sessions with the unisex SKINS 3-SERIES seamless recovery Calf Sleeves. We've combined our best compression technology with antifungal copper technology to improve oxygen delivery to your tired calves, scavenge metabolic waste from your lower leg muscles and accelerate wound healing so you're back on your feet faster. Wear them post-workout for faster recovery or during long-haul flights to minimize swelling and discomfort during travel.

Further properties for the Skins compression clothing:
- 59% Polyamide, 30% Polyester, 8% Elastane, 3% Copper
- Made in Europe

Areas of application for the Skins 3-Series seamless recovery calf sleeves:
- Fitness, strength training
- Trail running, obstacle course, rock climbing
- all ball sports such as football, handball, basketball, volleyball, hockey, tennis, golf, badminton,
squash
- Athletics, triathlon
- Rest periods between training and competitions, when travelling